BOLIVIAN TORCH "MONSTROSE" CUTTINGS — CLONE A & CLONE B
Humans have prized psychedelic cacti as ritualistic sacraments into antiquity. Modern psychonauts also covet the spiked vegetation for their entheogenic properties. San Pedro and Peruvian torch are the better-known varieties, but Bolivian torch is another species rich in the active constituent mescaline (that's 3,4,5-trimethoxyphenethylamine for the chemistry nerds).
WHAT IS BOLIVIAN TORCH?
Known by the Latin binomial Echinopsis lageniformis (formerly Trichocereus bridgesii), Bolivian torch is a fast-growing species native to the high deserts of Bolivia. The plant contains several psychoactive chemicals, including the serotonergic alkaloid mescaline. Dried samples have revealed mescaline levels of 0.56%. However, some strains have exhibited significantly higher quantities.
Bolivian torch typically exhibits columnar growth in nature. Cactus cultivators and collectors have domesticated the species and developed numerous cultivars, such as Trichocereus bridgesii monstrose (TBM). Botanists throw the term "monstrose" into a name to imply an abnormal or distorted shape. Two cuttings of this cultivar—Clone A and Clone B—are popularly cultivated varieties.
Both of these clones bears the nickname "penis plant", and the ever so subtle title of "the pornographic cactus". Cultivators assigned these designations to the species for its uncanny resemblance to certain parts of the human body. We're not kidding. Some specimens even have an apparent urinary meatus (that hole in the end).
Zamnesia offers cuttings from Clone A and Clone B specimens.
CLONE A: TRAITS AND GROWING CONDITIONS
Our Clone A cuttings are 25–30cm in length. This cultivar grows in a clustered formation and peaks at the height of 40cm. The stem is greyish-green and smooth, with areoles (bump-like "branches") and spines mostly located near the base. The needles are light brown in appearance and grow to 7cm in length.
Clone A buds emerge uniquely. Cactus buds typically arise through the areoles. In this case, however, they appear through the skin.
Much like Echinopsis lageniformis, Clone A is straightforward to grow. This hardy cultivar laughs in the face of temps as low as -12°C. Cuttings thrive in fertile soil with good drainage. Unlike most cacti, Clone A has a high demand for water. Keep an eye on her to prevent her from drying out. Fertilise your cactus monthly to satisfy her nutritional needs.
Outdoor plants do best in full sun, but make sure to relocate them to shade during severe heat waves. Indoor plants require occasional direct sunlight and do well on windowsills. This cultivar requires a dormancy period over winter to rest and recuperate. Cease watering and feeding during this period.
CLONE B: TRAITS AND GROWING CONDITIONS
Clone B is more deserving of the title "penis plant". This larger, thicker, and relatively spineless cultivar ascends to 60cm in height. Our Clone B cuttings are roughly 7–12cm in length but may vary more in size due to the abnormal shape of the plant. However, they'll be significant enough to cultivate.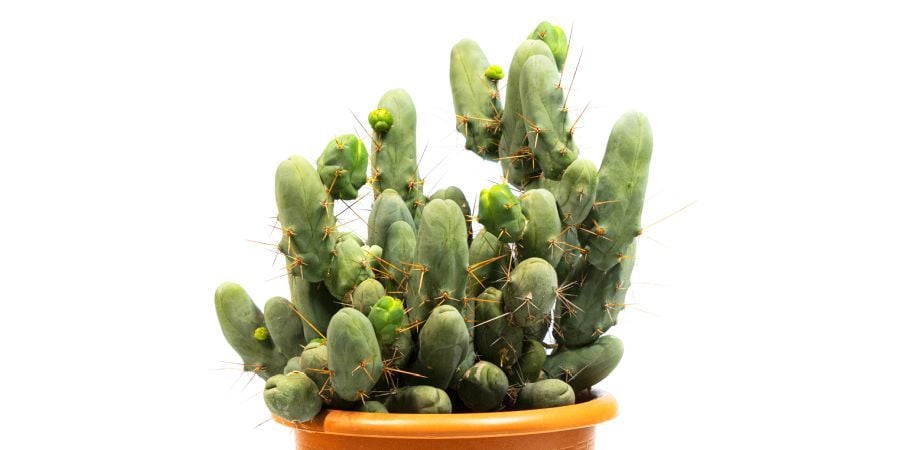 Clone B cuttings also grow in a cluster formation. This cultivar grows at a slow pace, but enthusiasts value it for its unusual—and hilarious—shape. The upper part of the stem is smooth, spineless, and without areoles. The lower portions form ribs and house few spines.
This cultivar is equally resilient as Clone A. It has a similar requirement for water and nutrients, and needs to lay dormant over winter. Outdoor plants do well in full sun, but won't tolerate intensely hot summers. Place indoor plants in a sunroom/conservatory or on a windowsill for access to occasional sunlight.
Both Clone A and Clone B are reported to have similar mescaline content to that found in Echinopsis lageniformis.